I'm going to name my favorite places to drink, but this doesn't count as a meme because I wasn't tagged by anyone and I don't intend to do any tagging of my own. I'm just going to name my favorite places to partake of alcoholic beverages.
The
Back Door
Bar and Grille is NOT a gay bar; no self-respecting gay person would be caught dead in the dump. It used to be the smokiest place on Earth, but they spent $100,000 on a ventilation system to make it only the fourth smokiest place on Earth. Money well spent, if you ask me. If you order a Maker's and coke here, be prepared for at least a four finger pour of bourbon; and you won't be charged a lot for it, either. The infamous "Back Door Pour" has wrecked the livers of a generation of
Louisvillians
.
I've mentioned the Cumberland Brews brewpub about a million times on this blog, but no list of my favorite bars would be complete without it. It's a small place with great beer and delicious food. There are four (4) tables outside, and I get there every Sunday at 12:45pm to secure one before they open for business.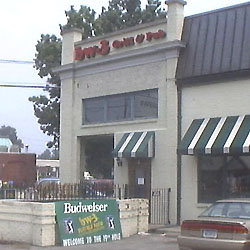 I'm not a big chain guy, but I have to add the Buffalo Wild Wings in the St. Matthew's neighborhood of Louisville. Why? Because this is the home of the Thursday Wing and Beer Night, when I meet a group of friends, old and new, to get the weekend started a little early. Frankly, this isn't as nice as some of the newer B-Dubs locations in town (the men's room ALWAYS has an overpowering smell that just has to be the Devil's urine), but I go there for the company, not the atmosphere.
Oh, and the outdoor patio is nice during those three weeks in the spring before it gets hot and those three weeks in the fall before it gets cold.
Every time I go to the
Monkey Wrench
I have a good time, but I think that has a lot to do with the Derby City Roller Girls always being there. Also, they get points off for closing at 2am instead of the Louisville standard 4am. It's a restaurant first and a bar second, but it's still a pretty damn good bar.
The
Mag Bar
is the prototypical hipster bar in town, but they're nice enough to let an uncool, non-tattooed guy like me join the fun for the strong cheap drinks and great jukebox.
El
Mundo
, one of my favorite places to eat, also makes my drinks list because of the awesome margaritas. I usually get an original on the rocks, but they have a blood orange frozen margarita that can't be beat.
I
don't hang out a lot at Bourbons Bistro because it's a bit pricey
.
It's also primarily a restaurant; a highly regarded restaurant, I might add.
But I have to give them props for having the most extensive bourbon selection in the country. Over
130 bourbons
are featured, some unavailable anywhere else in the city.
Sometimes I just want to sit and relax, and
Riverbend

Winery
is the perfect place for that. Good appetizers, crepes for desert, and low key music make this the perfect place to chill out. It's located in an as-yet underdeveloped area of downtown, so the crowds aren't there yet. If it were in a trendier neighborhood you couldn't get in the place.
There are so many more places: The Outlook Inn,
O'Shea's
, the Pour
Haus
, Barret Bar, etc. Yeah, I'm a drunk.
Oh yeah, I did live in
Las
Vegas for almost four years, didn't I? For my favorite place to drink, I'm going to forgo the massive nightclubs on the Strip for the very nice Whiskey Bar inside the Green Valley Ranch casino in Henderson. It's kind of upscale and the drinks are pricey, but I always enjoyed siting outside on their patio. And one of the bartenders was not only the hottest woman I've ever seen in person, she could make a damn good Manhattan.
Like I said, I'm not tagging anyone. If you want to post your favorite bars, let us know in the comments.