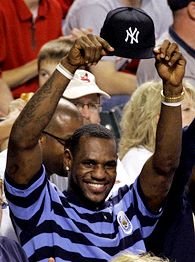 Sweet Jesus in a Prius, how big of an arrogant jackass is Lebron James?
Lebron, who plays basketball for the Cleveland Cavaliers and grew up in nearby Akron, is a New York Yankees fan? Why? I'm guessing because the Yankees win a lot and he's a soulless front runner, but that isn't the point.
The point is that a hometown hero showed up to a Yankees-Indians playoff game, in Cleveland, not only wearing a Yankees cap but making a huge "Everyone pay attention to me!" spectacle of himself.
Of course, Lebron has the right to be a fan of any team he chooses, even the mothergoddamnfucking Yankees. He even has the right to show up at a stadium full of the fans who helped make him a millionaire and rub their noses in the piss stain that is his misguided team allegiance.
But he's still a prick for doing it.
I think Cleveland fans should show up at Lebron's basketball games wearing San Antonio Spurs hats. I'm sure Lebron loves the Spurs after they ran his ass out of the NBA Finals. They should all raise their Spurs hats above their heads like attention-seeking assholes and boo the Yankee fan every time he touches the ball.