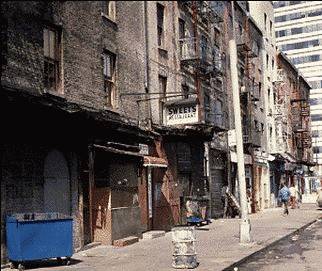 I've come to the conclusion that instead of overreacting when someone insults my hometown, I'm just going to go with it.
Why? Because I don't give a fuck what anyone else thinks about where I live. Plus, the more negative exposure Louisville gets, the less likely it is to be overrun by asshole transients.
Every city in the world has its share of
douchebags
. When lots of
douchebags
from all over the country decide to congregate in a single area, what happens? If you really need to know, read the first year of this blog.
See the above picture? That's the nicest street in Louisville. The Mayor lives there, the lucky bastard; with his highfalutin indoor plumbing and asbestos-free walls. Whatever you do, don't move here.
Never mind that the picture is really from a
google
search of the word "slum" and could be any city in America. People believe what they want to believe. In the meantime, I'll hang out with my friends and enjoy the
idiosyncrasies
of my hometown. I suggest you do the same wherever you live.