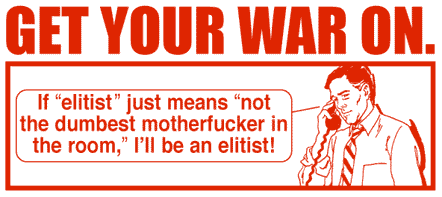 I didn't watch the latest Democratic debate, because I just can't stand to see Obama and Clinton tear each other apart as America's Grumpy Uncle, John McCain, slowly gains momentum in his quest for a third Bush term. However, I do search the internets, and apparently the "leftist media" that ran the debate asked questions about EVERYTHING BUT THE ISSUES FACING THIS COUNTRY.
There isn't a serious issue out there that the media won't try to dismiss in favor of something trivial.
We've been in Iraq for five fucking years with no plan to get out.
Obama doesn't wear an American flag pin (which was made by child laborers in China) on his lapel.


Gas will probably be five dollars a gallon by summer's end.
Hillary looked dumb doing a shot of whiskey at a bar in Pennsylvania.


The economy is in the shitter.
Bill Clinton's gonna get another blowjob. You know he is!


Our drinking water and the air we breathe have been decimated by eight years of federal indifference and outright executive branch sabotage.
Someone somewhere made a misstatement and we have the youtube footage to prove it.


The media loves these little sideshows because let's face it, ISSUES ARE BORING. Issues aren't going to sell copies of the sleazy tabloid that poses as your local newspaper. Issues aren't going to get the masses to watch "The Liberal" and "The Conservative" yell at each other on a cable news channel. Hey, I'm guilty of it as much as anyone. In the time it took me to gleefully read about the allegation that
John McCain called his wife a cunt
, gas in my neighborhood went up fifty cents.*
Lastly, I'd like to address the idea being presented by both Hillary Clinton and John McCain that Barack Obama is an elitist. Well, in the immortal words of English romantic poet Percy Shelley, "No fucking shit." Of course he's an elitist. Why? Because he's smarter than most people, god damn it! You know that kid who just requested you as a myspace friend, the one who goes by the name Thug4Lyfe and lists his favorite books as "None. Bookz is for pussiez"? Barack Obama is his intellectual superior. Obama is also smarter than the guy who had "Git 'R' Done" branded on his nutsack and the woman who bought a
Thomas Kinkade
painting for $1000 instead of purchasing its aesthetic equal for fifteen bucks at a "starving artist" sale in the conference room of the Airport Sheraton.
And anyone who tries to say that Obama is any more of an elitist than Clinton or McCain is trying to sell you something.
*Although if he did call the mother of his children a cunt, that kind of makes him a cunt, doesn't it?