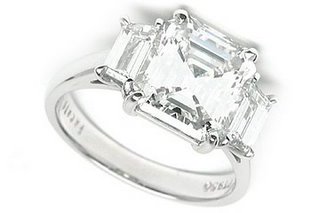 This is my blog friend Brooke's "dream engagement ring". Her rich handsome future husband is going to take time out from his job, CEO of the Universe, to knock down her front door with his enormous penis and hand her this rock. Good for her.
I personally do not own one piece of jewelry, unless you count a cheap watch as jewelry, and you wouldn't if you saw this watch. I don't like jewelry; I consider it a huge waste of money. If other people want to spend their hard-earned cash on shiny objects, that's their right.
But I do have a major problem with the engagement ring scam. I think diamond rings are a ridiculous luxury that has nothing to do with love and commitment and everything to do with well-executed brainwashing courtesy of the world's jewelers.
"Gee honey, wouldn't you rather take a nice vacation or buy enough clothes to last the next few years?"
"No. I want a ring with a diamond the size of Ted Kennedy's head."
"Why don't I just burn several thousand dollars? At least the heat from the fire would keep us warm for awhile."
Okay, so I'm never getting married. I don't care. It's not like they're lining up, ring or not. The madness has to stop somewhere. What if people start demanding expensive, useless items for other occasions?
"Honey, I know I'm seven months pregnant, but I want a solid gold i-pod, or so help me Christ I'm having a back alley abortion."
And men can get into the act as well:
"Dear, if you expect me to mow the lawn, I'm going to need a pair of boxer shorts made of fabric from the Shroud of Turin."
I realize I'm pissing into the wind here. Like Brooke said when I told her of my objections, "Fuck you, Todd. I want my ring."