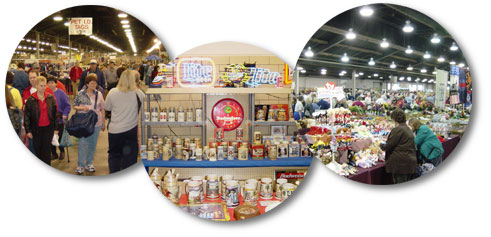 In what had to be a subconscious decision to torture myself for blog material, I attended a Flea Market Sunday afternoon at the Kentucky State Fairgrounds.
Here is what I learned:
-The perfect accessory to go with bad skin and too much makeup? That would be massive cold sores. Ahhh...back to basics.
-A woman was buying her infant a one-piece jumper with Git R Done written on it, and local authorities didn't immediately seize the baby and sell it to people with better taste. That's what should have happened. Oh, and the woman should have been beaten in public to discourage others from following her lead.
-The morbidly obese in wheelchairs and parents pushing strollers are allowed to run over the able-bodied and/or childless. Resistance is futile, as their numbers are legion.
-It isn't wise to walk up to a man wearing a t-shirt which reads Eat. Sleep. Kentucky Football. and say "Is that their off-season training regimen?"
-NASCAR and metallic license plates? A winning combination!
-Who needs UV protection when sunglasses are five for a dollar?
-Traveling Flea Market vendors are the new carneys (except there aren't as many Asian carneys).
-It is unwise to attend a Flea Market when suffering from a massive hangover. I wasn't there very long, but I contemplated murder about a dozen times. Only the numerous opportunities to purchase fudge kept me from committing multiple homicides.
-The entire enterprise reeked of desperation, out-of-control consumerism, and fried dough.