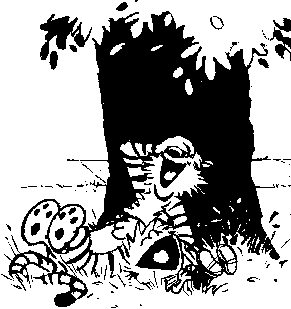 Why are Calvin and Hobbes laughing? Because they just found out that the annoying redneck hillbilly manager where I work, the one who made everyone's life a hell with her immense stupidity, was fired for stealing.
To be more specific, she was fired for stealing from
the Coke machine!
HAHAHAHAHAHAHAHAHA!!! Only a fuck-brained trailer trout would risk her job to steal coins! I guess her meth dealer takes loose change.
This woman was a nitpicking twit who browbeat employees for the slightest real or imagined transgression, all the while stealing her fortune one quarter at a time. She was truly a criminal mastermind. And by "criminal mastermind" I mean "slurry-witted yokel."
Well, as the late actress Jane Ace once said, "Time wounds all heels."